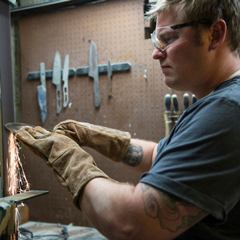 NHB KnifeWorks has been chosen by celebrity chef Tom Colicchio to be a featured product on DARA Artisans' Curated by Tom Colicchio collection of artisan products made in the USA.

DARA Artisans is a high-end website that provides beautiful handmade products from across the globe. Its mission is to promote "cultural curiosity and a sense of discovery by offering a sophisticated edit of handmade artisan crafts to an audience seeking authentic, responsibly sourced designs with a modern aesthetic."

Co-founder of Gramercy Tavern, Craft and Colicchio & Sons restaurants in New York, Colicchio is a five-time recipient of James Beard Foundation medals in recognition of his culinary accomplishments. He has also been the head judge on every season of Bravo's reality television show, "Top Chef."

Colicchio specifically chose NHB KnifeWorks' Thai Basil Knife line to be featured in his collection, which now can be found on the DARA Artisans website, http://www.daraartisans.com/collections/artisan-nhb-knife-works.

"Needless to say, we are thrilled at the honor," said Melody E. Noel, co-founder and CEO of NHB KnifeWorks, based in St. Louis, Mo.