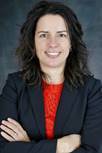 March 2, Petaluma, CA– Kuhn Rikon USA announced today that Sonja Berton has joined the team as Director of Business Development in the United States, where she will lead sales efforts for most accounts.
With her extensive experience in housewares including gadgets, cutlery, textiles, and most recently, small appliances, Berton brings a wealth of industry knowledge, expertise, and passion to the Kuhn Rikon team. Most recently, she managed key accounts for Breville USA, working with key retailers including Best Buy, Crate & Barrel, Kohl's, Target, Walmart, Macy's, and Bloomingdales.
"Having worked with Sonja for many years, I am confident that her experience and skills will be invaluable to Kuhn Rikon as we continue our growth and adapt to the rapidly changing retail landscape," says Mark Adkison, President of Kuhn Rikon USA.
Berton brings a proven track record in relationship building throughout the housewares industry—in her new role at Kuhn Rikon USA, she will focus not only on expanding the brand's presence with existing retail channels but also pursuing new opportunities. She will manage the company's independent sales representatives as well as oversee relationships with specialty and independent retailers and key accounts.
Berton's first day will be March 2nd, joining the Kuhn Rikon team at The Inspired Home Show in Chicago. Kuhn Rikon cordially invites all retail partners and members of the media to come meet Berton and congratulate her in person in Booth S901.
Kuhn Rikon is the #1 brand of Swiss cookware and cooks' tools sold worldwide, since 1899. The Swiss brand manufacturer inspires the world of cooking with innovative products to prepare, serve and enjoy special moments around the table. Kuhn Rikon is a family-owned company with headquarters in Rikon, Switzerland, with subsidiaries in Great Britain, Spain and the USA. For more information visit www.kuhnrikon.com.