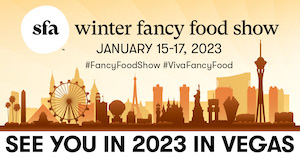 NEW YORK, NY (March 7, 2022)The Specialty Food Association (SFA) Winter Fancy Food Show will be returning to the Las Vegas Convention Center (LVCC) in 2023. Running January 15-17, the Show will feature specialty food and beverages from domestic and international exhibitors, educational programming, and the traditional post-event food rescue.
"The SFA looks forward to an even bigger and better Winter Fancy Food Show in 2023 which will be hosted in the larger and more conveniently laid out West Hall of the Las Vegas Convention Center," said SFA Board Chairman, Charlie Apt.
The 2023 Winter Fancy Food Show is open only to qualified members of the trade and press.
# # #
About the Specialty Food Association
The Specialty Food Association (SFA) has been the leading trade association and source of information about the $170.4 billion specialty food industry for 70 years. Founded in 1952 in New York City, the SFA represents manufacturers, importers, retailers, distributors, brokers, and others in the trade. The SFA is known for its Fancy Food Shows; the sofi™ Awards, which have honored excellence in specialty food and beverage for 50 years; the Trendspotter Panel Show reports and annual predictions; the State of the Specialty Food Industry Report and Today's Specialty Food Consumer research; the ecommerce enabled SFA Product Marketplace, where members showcase products and sell directly to qualified buyers; SFA Feed, the daily source for industry news, trends and new product information, and Spill & Dish: A Specialty Food Association Podcast.
Press Contact: press@specialtyfood.com
Facebook: Specialty Food Association
LinkedIn: Specialty Food Association
Twitter: @Specialty_Food
Instagram: @specialtyfoodassociation
Hashtags: #FancyFoodShow #ShapetheFutureofFood #VivaFancyFood