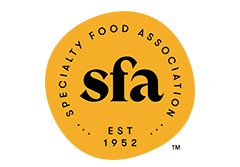 9 May 2022
Jeni's Splendid Ice Cream's Maple Soaked Pancakes, Rick's Picks Savory Snacking Cauliflower Florets, and Gathered Food Corp.'s Plant-Based Salmon Burgers are among the New Product winners of the Specialty Food Association's 50th Annual sofi Awards. The full list of Gold and New Product winners can be found here:
https://shopspecialtyfood.balluun.com/en-us/custom/sofi-winners-22/
"For 50 years the sofi Awards have been recognizing the best of the best in the specialty food industry," said Laura Lozada, vice president, membership for the SFA. "Our members are the foundation of our industry and we are proud to honor their innovation, growth, and creativity."
Available only to product-qualified members of the SFA, the sofi Awards were judged at the Food Innovation Center at Rutgers University, the SFA's partner for the awards. FIC experts evaluated products using anonymous tastings across 47 categories using criteria that included flavor, appearance, texture, aroma, ingredient quality, and innovation. Just over 100 specialty food products were awarded Gold, and New Product, trophies.
The top scoring products will be announced as the sofi Product of the Year Award and New Product of the Year on Sunday, June 12, at the 2022 Summer Fancy Food Show.