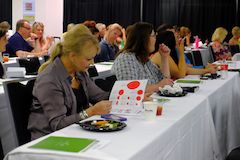 More than 150 top retailers and vendors in the gourmet kitchenware industry gathered for class in Atlanta at the 6th Annual Gourmet Catalog Retail Summer School during the International Gift & Home Furnishings Show.
Gourmet Catalog (GC) members received exclusive and interactive classes covering new products and product demonstrations as well as in-depth product training. This event provided a personal learning experience for retailers, allowing them to interact with top principals as well as participate in an open and candid forum with vendors.
This year's new class format included one-and-a-half days of educational and hands-on 25-minute class rotations. Classes began July 8 with a record number of participating vendors, including Blendtec, Breville, Browne & Co., CDN, Charles Viancin, DKB, French Bull, Frieling, Hammer Stahl, Lenox, Novis, OXO, Peugeot (PSP), Swissmar, True Fabrications and Zwilling.
After class, retailers and vendors gathered for a Party in the Kitchen sponsored by HIC, KitchenIQ, Brisker, Wüsthof, BUILT, InterDesign, Jura, Wellness Mats and Dugan-Bliss & Associates. Special demos and tables were set up by HIC, KitchenIQ, Brisker, Wüsthof and BUILT. Gourmet Catalog vendors also stayed open late for exclusive shopping.
Between classes on July 9, Lenox made a lunchroom presentation, including a review of the new products from The French Chefs followed by a Gourmet Catalog member exclusive launch of the Kate Spade New York All in Good Taste collection. The All in Good Taste collection includes inspirational everyday kitchenware, dinnerware and bakeware etched with whimsical designs and sayings. After classes finished for the day, students and vendors celebrated with an ice cream party hosted by Le Creuset.
Janis Johnson, founder and president of Gourmet Catalog, emphasized the unique effect of summer school attendance. "This event provides such an excellent atmosphere for up close and personal interaction between independent retailers and vendors. We believe education and communication between the two groups is such a critical piece to success in the industry and we are so proud to be able to facilitate this experience," Johnson said. "Not only are both parties receiving exclusive product education, valuable feedback and a direct forum for questions, they are also developing and building relationships, and that is very exciting for us."
Ruth Stenger Japzon, owner of the Handy House in Hagerstown, Md., reflected on the importance of summer school to her business: "It's so important for us gourmet retailers to know the new items coming out, and to be able to see and handle them is even better. That's where Gourmet Catalog's summer school comes in. There is just no substitute for being able to not only meet company representatives/owners but to have them show and explain the new items," Japzon said.
"We all need infusions of new ideas on a regular basis and attending the 17 small group sessions offered over the two days was incredibly valuable to store owners who care about knowing and growing in every way," she added. Bobby Griggs, vice president of Hammer Stahl, spoke highly of his experience at this year's event. "Summer school provided a unique experience that allowed our brand to interact with, start relationships with, and hear back from our retail partners," Griggs said.
"This event has truly been the most rewarding event we have been a part of. To have the ability to bring new knowledge and information to GC store members while learning from their experiences with our product is time and energy well spent. I am very thankful for Gourmet Catalog creating this unique approach bringing vendors and retailers together."
Celebrating 34 years in 2015, Gourmet Catalog works to ensure the success of independent retailers with a variety of programs and services, including discounts provided by nearly 200 vendor members.