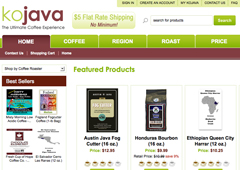 Kojava.com helps gather a fragmented market of micro coffee roasters to make it simple for coffee lovers to discover some of the best coffees from around the world. In addition to consolidating the micro-roaster market, Kojava also promotes the sale of fair trade, eco-friendly and sustainable coffee.
The site makes it simple for coffee roasters to set up an online store, tell their story and sell directly to consumers. In this way, Kojava assists small coffee roasters by giving them greater online exposure at no cost, the company said. By specializing in selling unique and hard-to-find coffees, all under one roof, Kojava said it is assembling the Web's largest micro-roasted coffee marketplace.
Premier coffee roasters selling through Kojava currently include Austin Java, Black Crest Coffee, Blacksmith Coffee Roastery, Cave Bird Coffee, Coastal Roasters, Coda Coffee Company, Deep Cello Coffee Roasters, Fresh Cup of Hope Coffee Co., Gen-X Coffee, Good Dog Coffee Micro Roasters, Hunter Bay Coffee, Island Joes Coffee, James Antonio Coffee Company, Klatch Coffee, Latitude 23.5 Coffee and Tea, Mahogany Roasters, Mosaic Coffee Company, Organo Gold, Outlaw Coffee Roasters, Paradise Coffee - Kopi Luwak, Red Rooster Coffee Roaster, Terra Nova Coffee L.L.C., Tylers Coffee, Unique Coffee Roasters and Zen Roasters.
"Our goal is to help micro roasters by giving them an online presence for their wonderful products and enable the discovery of fine micro-roasted coffee for every consumer. Gourmet micro-roasted coffees are one of those affordable luxuries that consumers will always appreciate," said Opher Mizrahi, Kojava's founder.