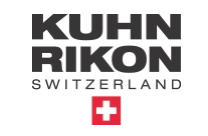 May 24, 2022, Petaluma, CA– Kuhn Rikon USA announced today that Melissa Ledbetter has joined the company as Director of Marketing and Ecommerce. Melissa will assume full leadership responsibility for all marketing activities and sales management of the company's ecommerce accounts.
Melissa brings more than 20 years of housewares experience to Kuhn Rikon. She was most recently with Fortessa Tableware Solutions as Director, E-Commerce Sales, and Business Development. Previous experience includes such companies as Legacy Brands, Smith's Consumer Products and Microplane.
"We're elated to have Melissa on board lending her experience, drive and passion to the team," said Mark Adkison, president, Kuhn Rikon Corporation. "As we continue to grow and expand in the US and international markets, Melissa's extensive experience will be invaluable," he continued.
Kuhn Rikon is the #1 brand of Swiss cookware and cooks' tools sold worldwide. The Swiss brand manufacturer inspires the world of cooking with innovative products to prepare, serve and enjoy special moments around the table. Kuhn Rikon is a family-owned company with headquarters in Rikon, Switzerland, with subsidiaries in Great Britain, Spain, and the USA. For more information visit www.kuhnrikon.com.