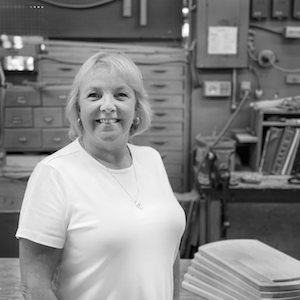 JK Adams Company announces that it has expanded its core wholesale sales team by hiring a new wholesale sales manager, Dorothy Downey. This is a new position.
Ms. Downey will report to VP of Sales, Sharon Rishell. She will round out the wholesales sales department, which includes Donna Cross, Wholesale Assistant Sales Manager.
Dorothy comes to the team with a thirty-five plus years in retail sales, divisional buying, and product development. For the past twenty years, she has supervised product development for a number iconic Northeast and West Coast brands.
"Her specific understanding of supply chains, product sourcing, and organizational management will prove to be valuable assets to the company," said Sharon Rishell, VP of Sales. "She will focus on sales relationships and development in the promotional product space as well as with our exceptional group of specialty stockists."
Dorothy is a proud fifty plus year resident of Vermont with a rich understanding of the unique qualities of this state. In her free time, Dorothy enjoys spending time with her family and two golden retrievers, Colby and Murphy. She is an avid traveler, skier, reader, cook, and gardener.
Dorothy can be contacted by email or phone at the following:
Dorothy Downey
Sales Manager, Wholesale
ddowney@jkadams.com +1 802-867-7802
Please contact Susan Jardina of Jardina Communications with any press inquiries or for more information at susan@jardinacommunications.com.