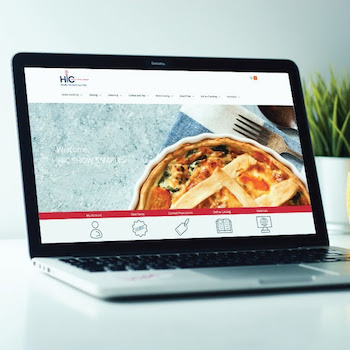 (February 2021) – HIC— Harold Import Co. launches a redesigned website presenting consumers with the full line of kitchen tools and gadgets, while offering the company's B2B customers enhanced capabilities for building sales. The goal of the B2C site is to provide home chefs with the ability to browse HIC's full line of product, including the company's Family of Brands (HIC Kitchen, Mrs. Anderson's Baking, Helen's Asian Kitchen, Fante's, Beyond Gourmet, Cutlery Pro, Maine Man and Fino), and exclusive brands (aerolatte and Marcato), in addition to a host of quality kitchen tools and accessories from some of the best-known brands worldwide.
Increased B2B Functionality
Current HIC retail customers will have 24/7 access to the password-protected B2B site. Once logged in, customers are taken to their personal sales capsule dashboard where they can begin using the robust suite of tools available to them. Customers can browse new products, reorder, check shipping and so much more. The layout of the B2C site mimics the B2C site, but provides added functionality for individual accounts.
"The website redesign is part of HIC's continuing effort to provide our customers with the best possible customer service," says Pamela Callahan, Web Manager. "The newly designed website and reseller portal, is part of our continued customer service initiatives, which are ever-more important in this changing retail climate. The redesigned site gives our customers the ability to access everything needed for successful sale, any time of the day."
"Since Harold Import Company provided us with a brand-new web portal, our ordering has never been easier and it is much more thorough," explains Mike Fear, President of Now You're Cooking in Bath, Maine. "We can look at the catalog online, and order directly from it. Plus, we love being able to look at previous orders and invoices at our convenience."
Retailers and food-service establishments of all sizes are invited to find out about becoming a reseller of our essential cooking tools and more. Simple call 800-526-2163 or email pplancher@haroldimport.com for more information.
Visit www.HICkitchen.com to explore all we have to offer.