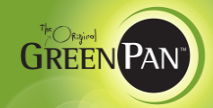 NEW YORK (January 4, 2021) – Award-winning cookware brand and the creators of healthy ceramic nonstick cookware, GreenPan™ announced today an official partnership with chef and cookbook author Bobby Flay as they relaunch their most advanced cookware collection: GreenPan™ Premiere, sold exclusively at kitchenware retailer Williams Sonoma starting January 2021.
Bobby Flay said about partnering with the collection "GreenPan Premiere has become my favorite nonstick cookware hands down. I use it all the time at home." This extremely popular collection at Williams Sonoma was launched in early 2020 and quickly became a best seller. This partnership brings three culinary industry pioneers together as they celebrate healthy, easy and foolproof cooking results at home. "Since it was introduced to Williams-Sonoma customers, this new collection sold out faster than any other nonstick cookware collection in Williams-Sonoma history," said Williams Sonoma.
"Bobby Flay is legendary in the culinary world and the ultimate chef to celebrate at home cooking. We could not be more thrilled to be working with him. With more people cooking at home than ever before, we are pleased to partner with Bobby and Williams Sonoma to celebrate this innovative collection. Named GreenPan™ Premiere for a reason, it truly is a blend of our latest healthy ceramic nonstick technology and the many helpful features you would expect from the best names in cooking," said Jacob Maurer, Chief Executive Officer Americas, The Cookware Company, Inc. "We could not be more excited about the partnership and year ahead."
Williams Sonoma President, Ryan Ross said, "Our team is passionate about providing our customers best-in-class products that are available only at Williams Sonoma. GreenPan™ Premiere has quickly become a customer favorite. We look forward to our customers experiencing how Bobby Flay uses GreenPan in his home by sharing his recipes and inspiring cooking videos all year long"
The GreenPan™ Premiere collection features a Diamond Advanced ceramic, healthy nonstick coating, the most innovative in nonstick cookware. Bobby Flay said: "Their Diamond Advanced technology is the most nonstick, durable and healthy surface I have ever used in a pan. And the thing I love about it, it is the first nonstick pan that I have found that I can sear anything in. It is also great for delicate foods, like eggs and omelets. It performs like stainless, to get that sear and like cast iron go hold that heat." Each piece is infused with layers of diamonds for unparalleled heat transfer and durability that stands up to metal utensils. Bobby also said, "One of the great things about the GreenPan Premiere is that you can use metal utensils and you will not harm the ceramic coating." The GreenPan™ Premiere collection is expertly crafted of tri-ply stainless steel with wrapped rims to prevent dents and chipping. Silhouette rivets create a seamless easy to cook and clean interior. Bobby Flay said, "The nonstick coating works so well, everything slides around easily." The collection is designed to perform on all types stovetops: induction, gas, electric.
GreenPan's patented Evershine™ finish also keeps the polished exterior looking new for years of great cooking. Plus, each piece is beautifully designed to go from stove to oven to tabletop. Pans are heat resistant up to 600 degrees in the oven, and the entire collection is dishwasher safe. Bobby said, "The GreenPan Premiere pan gives me so much confidence, that this omelet is going to go in the oven, bake beautifully and then come out really easily." Bobby also said, "Presentation is everything. It continues to stay looking new after years of use."
As innovators of healthy ceramic nonstick cookware, GreenPan™ Premiere's non-toxic coating is free from PFAS, PFOA, lead, or cadmium. Bobby Flay Said, "When I am using GreenPan Premiere, I know because it is so nonstick, I don't need to use a lot of extra oil and fats. That's very helpful."
GreenPan is known for taking extra steps to carefully craft non-toxic and more environmentally friendly pans—their curing process uses 60% less CO2 than traditional nonstick cookware. Plus, 30% of the energy at the manufacturing plant is solar, all aluminum is recycled, and wastewater is filtered and reused.
The GreenPan™ Premiere Cookware Collection includes: 3-Quart Covered Saucepan ($119.95), 8" Fry Pan ($89.95), 10" Fry Pan ($99.95), 12" Fry Pan with Lid ($129.95), 12" Wok with Lid ($129.95), Round Grill Pan ($99.95), 4-Quart. Covered Sauté Pan with Helper Handle ($139.95), 8" and 10" Frypan Set ($99.95), 10" and 12" Frypan Set ($129.95), 4-Piece Saucepan Set—set includes: 1.5-Quart Saucepan, 3-Quart Saucepan, and Lids, ($149.95), 11-Piece Set—set includes: 9 ½" and 12" Fry Pans, 1 ½-Quart and 3-Quart Saucepans and Lids, 3-Quart and 6-Quart Sauté Pans with Lids, and a Stainless-steel Steamer. ($499.95), and 15-Piece Set—set includes: 8" and 10" Fry Pans, 11" Round Grill Pan, 12" Covered Fry Pan, 12" Wok with Lid, 1 1/2-Quart and 3-Quart Saucepans with Lids, 3-Qaurt Sauté Pan with Lid, 6-Quart Stockpot with Lid, and Stainless-steel Steamer Insert (fits 6-Quart Stockpot), ($699.95).
ABOUT GREENPAN™
Founded in 2007, GreenPan™ introduced the world to ceramic nonstick cookware. A Belgian cookware brand with an international reputation, GreenPan's signature Thermolon™ coating is manufactured without the use of PFAS, PFOA or any of the other toxic chemicals used to make traditional nonstick pans. For more information, visit their website: www.greenpan.us/