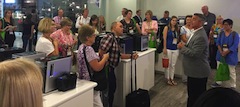 Approximately 25 members of the Gourmet Catalog Buying Group (GCBG) recently attended a tour of the Las Vegas market. Retailers and staff visited showrooms of GCBG vendor members, reviewing recent product introductions and making notes for future assortment planning.
Other scheduled events for the group during market included a cocktail reception in the new JURA showroom where retailers were invited to personally test the innovative coffee, tea and espresso makers. A special breakfast was hosted by Garry Schermann and the Creative Co-op team in the GC hospitality meeting room at the Market Center.
GC store member Khris Dunham, owner of Khristopher's Culinaire in Ouray, Colo., reflected on his experience during the event. "Once again, Gourmet Catalog helped make market a great experience. From the private product tour to the JURA reception and the Creative Co-op breakfast, GC staff was there to help connect buyers with vendors."
"At Gourmet Catalog, we're always looking for additional ways that our store and vendor members can interact and learn from each other," said Janis Johnson, president and founder of Gourmet Catalog. "The IMC has created a regional market opportunity for our GC members on the West Coast and in the mountain states."
Gourmet Catalog members form the original and leading buying group in the housewares industry. Celebrating 34 years in 2015, Gourmet Catalog works to ensure the success of independent retailers with a variety of programs and services, including discounts provided by 200-plus vendor members.