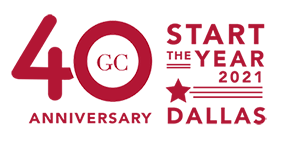 Dallas, July 7 –The GC Buying Group store membership base has continued to climb in 2021, despite the pandemic, welcoming a total of 17 new Store Members in the first half of the year.
"Now You're Cooking is so pleased to join the Gourmet Catalog Buying Group. Although we've only been members for a few months we already feel right at home. We've appreciated the comprehensive and supportive training to get us up to speed with the Create My Place online sales platform," reported Heather Fear, Director of Marketing & Outreach, Now You're Cooking, Bath, ME. "And we were especially impressed with the GC June Member Conference in Dallas. It was well organized, informative, and such a fun introduction to the group. After attending, it's no surprise why Gourmet Catalog is celebrating 40 years in the business!"
"Many new members initially join GC to receive preferred discounts and dating and later discover the vast value associated with the strength of our group of professional local retailers and vendors that support each other like family," expressed Janis Johnson, President and Founder of GC Buying Group. "I feel immense pride with every new Store Member that joins our GC community."
2021 First Half New GC Store Members
Attrezzi Fine Kitchen – Portsmouth, NH
Belle Cose – Jackson, WY
Blueprint Kitchen & Home – Litchfield, CT
The Finished Room – Atlanta, GA
The Kitchen Store Outlet – Kittery, ME
Lane Blu – Washington, NC
Kitchens by Mindy – New York, NY
Lifetime Kitchen – Plantation, FL
The Milled Olive – Star, ID
Moss and Embers – Burns, TN
Mr. Vac and Mrs. Sew – Melville, NY
Northcountry Fair – Soldotna, AK
Now You're Cooking – Bath, ME
The Pan Handle – Granbury, TX
Seattle Coffee Gear – Lynnwood, WA
The Tablespoon Cooking Co. – Cincinnati, OH
XL Technology – Wylie, TX
For stores contemplating a buying group experience, GC connects independent retailers to the strongest network in the kitchenwares industry. Join today and get ready to enjoy the privileges and perks available to the GC membership, along with the best events in the industry.
About GC Buying Group:
GC Buying Group Members form the original and leading buying group in the kitchenwares industry. Celebrating 40 years in 2021, GC works to ensure the success of independent retailers with a variety of programs and services, including discounts provided by 150 plus vendor members. For more information on Gourmet Catalog, call: +1-214-855-0005, email: info@gourmetcatalog.com or visit: gcbuyinggroup.com.
Like GC Buying Group on Facebook: GC Buying Group
Follow GC Buying Group on Twitter: @GCBuyingGroup
Follow GC Buying Group on Instagram: GC Buying Group