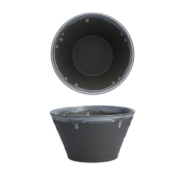 May 20, 2022, Ashburn, VA – FORTESSA® TABLEWARE SOLUTIONS™ – known worldwide for its thoughtfully designed dinnerware, drinkware, and flatware – is proud to announce that its Cloud Terre Collection No. 1 ETTA Bowl recently won a GOOD DESIGN Award. This prestigious award is presented by the Chicago Athenaeum Museum of Architecture and Design and Metropolitan Arts Press Ltd., and represents the absolute best in innovative industrial, product, and graphic design. The Etta Bowl, a striking asymmetrical design with a satin matte glaze in charcoal or white received best in Tabletop for 2021.
Created by designer Amber Kendrick, Cloud Terre® x FORTESSA® originates from her multi-disciplinary background in architecture, ceramics, and dance. Cloud Terre® x FORTESSA® brings a bespoke approach to the tabletop industry by combining the beauty of traditional craft pottery with a refined design methodology. With a playful balance of functionality and aesthetics, Collection No. 1 brings Amber's years of creative collaboration with award-winning chefs to the home consumer. All pieces are hand-finished creating subtle surface differences for a one-of-a-kind dining experience.
"It's a true honor to be acknowledged by such a prestigious design organization," said Scott M. Hamberger, president, and CEO, FORTESSA® TABLEWARE SOLUTIONS™. "This award validates all of the hard work and thought we put into each and every item we develop."
About FORTESSA® TABLEWARE SOLUTIONS™: Some of our happiest memories are born around the table—shared stories, good food, and warm laughter. It's what we were founded on in 1993, and it's what we believe in today.
Over 25 years later, we value food and friendships just the same. Whether it's an eight-course meal or a cup of coffee, every moment matters. Our passion for shared meals is behind every thoughtful design and unique product we craft. Proudly found in 4 and 5-star hotels, in thousands of restaurants worldwide, and in just as many popular retail locations, our aim is to inspire moments around your table, both big and small.
For more information, product photography, or samples please contact