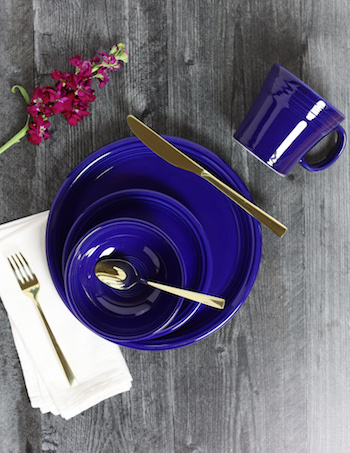 Newell, West Virginia – (January 12, 2021)– The Fiesta ® Tableware Company is proud to announce the Fiesta ® Dinnerware brand's 53rd color since its introduction in 1936. Fiesta's 2021 color is Twilight , a luminescent medium shade of blue.
Fiesta is debuting its new color at The Atlanta International Gift & Home Furnishings Market®, January 12-19, 2021, in the Fiesta Dinnerware Showroom by The Fiesta Tableware Company, Building 2, Floor 9, Suite 941.
"While Twilight offers a sense of calm serenity, in some light this particular shade also has an electrifying vibrancy that practically glows from within!" says Rich Brinkman, VP Sales & Marketing at The Fiesta Tableware Company. "The blue family continues to have a heavy influence on the tabletop this year and Twilight is a strong addition to our family of cool colors. It mixes well with the entire Fiesta color palette."
At any given time, Fiesta Dinnerware has 14 - 16 colors in its spectrum. For 2021, with no retiring colors as of now, there are 16 signature Fiesta colors.
Fiesta's 2021 colors include: Twilight, Slate, Scarlet, Poppy, Butterscotch, Daffodil, Sunflower, Lemongrass, Shamrock, Meadow, Turquoise, Lapis, Cobalt, Mulberry, and White; with Ivory being available during the 4th quarter. The lineup also includes Foundry, a cast-iron like finish that has the ease of use of ceramic dinnerware.
Standard dinnerware pieces will be available in Twilight, including 3pc Bistro Place Settings, 3pc Classic Place Settings, 4pc/5pc Classic Place Settings, and a variety of plates, platters, bowls, mugs, the signature disk pitcher, and serving pieces. Suggested retail price for the 3-piece place setting is $29.99 (MAP) and $50.00 (MSRP).
Presale starts May 15, 2021. Twilight will be available to consumers at better department stores, independent retailers, .coms, and on www.fiestafactorydirect.com by June 1, 2021.
About Fiesta® Dinnerware, Made In The USA
Designed by Frederick Hurten Rhead in 1936, Fiesta Dinnerware is among the most collected dinnerware in the world. Colorful and iconic Fiesta Dinnerware is lead free and dishwasher, microwave and oven safe. Fiesta has restaurant quality durability with an unprecedented 5-year chip replacement warranty. For more information, visit: fiestafactorydirect.com . Also visit Fiesta on Instagram: @fiestadinnerware , Facebook: Fiesta Dinnerware and Pinterest: Fiesta Dinnerware .
About The Fiesta Tableware Company
Founded in 1871 and renamed in 2020, The Fiesta® Tableware Company is known for Fiesta®, the colorful brand of dinnerware that has been made in the USA since 1936. For more information about The Fiesta Tableware Company, visit fiestatableware.com .