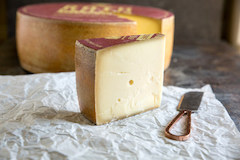 DENVER, Aug. 1, 2017 /PRNewswire/ -- Emmi Roth took home two first place and one third place awards at the 2017 American Cheese Society's Competition in Denver, Colorado.
First place in the American Originals Category went to Roth's Private Reserve, a raw milk, washed rind alpine-style cheese handcrafted using copper vats and aged for more than 6 months on spruce boards in the Roth cellars. The result is a complex flavor with undertones unique to the seasonal milk that is used.
Roth Organic Grand Cru® Reserve also took home first place in the Washed Rind Cheeses category. Organic Grand Cru Reserve is a new cheese from the company, crafted with the traditional techniques used to make Roth's signature Grand Cru cheeses, but with fresh, organic, local milk.
"We're so honored to take home first place awards in such competitive categories," said Tim Omer, President and Managing Director for Emmi Roth. "Our team of cheesemakers are dedicated to continuous quality in all the cheeses that we make."
Roth GranQueso® took third place in the Hispanic & Portuguese Style Cheeses category, continuing Emmi Roth's tradition of success with this style of cheese. GranQueso®, which is carefully cured for six to eight months, and has a distinctive bite and sweet finish with hints of citrus, spice and hazelnut. This win is the 14th consecutive award for this cheese in the category.
Judges evaluated more than 1,800 different cheese products in the American Cheese Society Judging & Competition this year. A full list of winners can be found online.
Media Contact: Abby Despins, 608-293-1003, abby.despins@emmiroth.com
About Emmi Roth
Emmi Roth USA, a subsidiary of Switzerland-based Emmi Group, is a leading producer of specialty cheeses. Our expansive portfolio displays a unique marriage of cheeses from two different worlds with very similar traditions and local values – from handcrafted award-winning Roth cheeses from Wisconsin to Emmi's full range of traditional varieties imported from Switzerland. Wisconsin brands include Roth and Kindred Creamery. Artisan cheeses imported from Switzerland feature Emmi, Kaltbach, Der Scharfe Maxx, and more. Learn more at emmiroth.com.