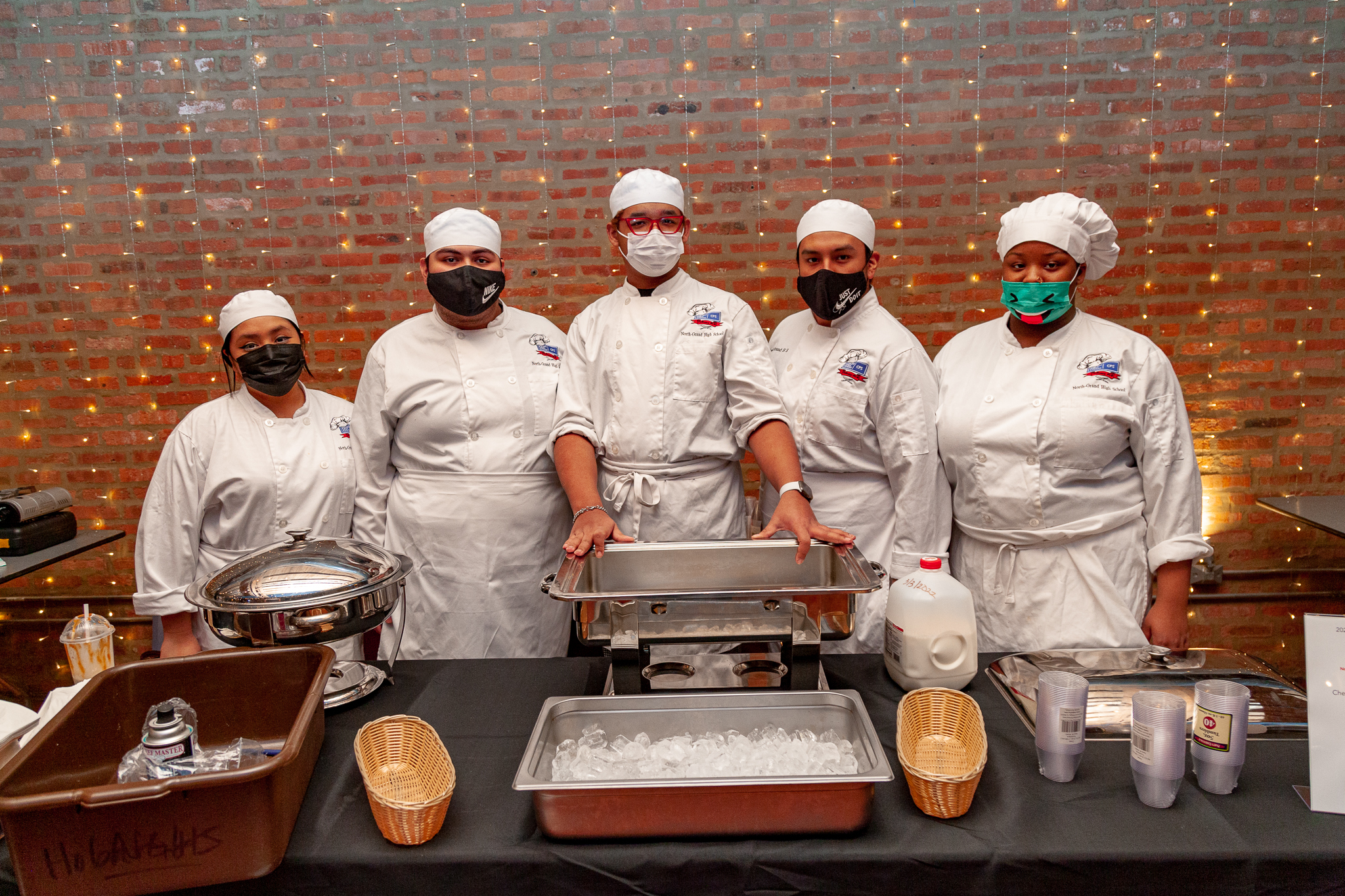 (March 2022)The 18th annual Culinary Futures 'Reach for the Stars' benefit returned to Chicago, March 6, 2022, raising more than $50,000 to help fund scholarships for underserved students within the Chicago Public Schools.
After a 2-year hiatus of the in-person event, this year's reception and silent auction welcomed more than 100 housewares industry supporters, Chicago-area locals and many Culinary Futures alums, all to lend their support to the students who will benefit from the scholarships provided through the non-profit No Matter What and Millie's Camp.
"It was wonderful to get back to the in-person event to help support the students in Chicago," explained Robert Laub, founder of Culinary Futures, and president of HIC - Harold Import Company. "Each year as we gather at this event to celebrate the accomplishments of these students, and to enjoy the food they prepare, it reminds us of how programs like Culinary Futures provide these students with an opportunity to find their passion."
And that passion couldn't be more evident than it is in Culinary Futures alum Kenneth Griffin. Having received the Culinary Futures scholarship, Griffin went on to a career in the hospitality industry, then returned home to Chicago, changing careers to serve as a police officer. In 2015, Griffin started his non-profit, No Matter What, a 501(c)(3) not-for-profit that invests in the youth of the Chicagoland area through mentorship, career readiness training, and mental health healing with a strong emphasis on helping them reach their highest potential No Matter What obstacles they face.
"I started No Matter What because, like myself, the young folk here in the south and west side of Chicago have been experiencing violence and trauma for a long time," explains Griffin. "But what I have found is that amidst all that trauma and violence, they still have the will to succeed . . . no matter what. And that was where the idea of No Matter What came." He adds, "I wanted to show young people we work with that no matter what you go through, you can all make it."
Adds Nicola Copeland, Interim Executive Director of No Matter What, "The 'Reach for the Stars' benefit exceeded my expectations. I was so moved and touched by the show of love for No Matter What and the work our founder, Kenneth Griffin has done and plans to do. The sky is the limit, and we know that many other great things are coming!"
Millie's Camp
In addition to individual scholarships, the 'Reach for the Stars' event also raised money for Millie's Camp. Partnering with No Matter What, this year Millie's Camp will host up to 70 teens and 10 adults who will receive a week of immersive learning with a highlight on careers in culinary arts and hospitality management. Sponsorship of a student to attend this program will cover costs for room and board, transportation, chef coat/kitchen attire, and supplies and consumables for learning.
Thank You to the event sponsors: Forpro, Ateco, Aerolatte, Marcato, KAF and HIC.
For more information, please contact Pamela Plancher Callahan pplancher@haroldimport.com
or Nicola Copeland ncopeland@nmwchicago.org