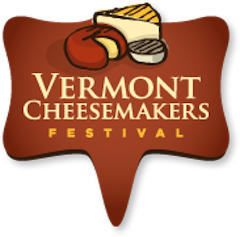 The fifth annual Vermont Cheesemakers' Festival featured more than 200 cheeses from about 40 cheesemakers during a daylong event at the Coach Barn at Shelburne Farms on July 21.
The festival offered tastings, pairings and sampling opportunities, along with cheesemaking and cooking demonstrations and workshops. In addition to the cheesemakers, artisan food producers and creators of local beer, wine and spirits were on hand.
"Our agricultural heritage has given rise to a diverse and growing community of cheesemakers here in Vermont," said Jeremy Stephenson, president of the Vermont Cheese Council. "The festival is a chance for people to connect with the farmers and cheesemakers behind the cheeses they love, to discover new cheeses and, of course, to reconnect with old favorites."
The festival included a Meet the Cheesemakers workshop series. Murray's Cheese from New York shared its knowledge with a "Counter Intelligence" workshop on affinage and the cave-aging process. Vermont cheddar-makers presented "Cheddar is a Verb" – a workshop devoted to understanding what makes a great cheddar. "Cheese Through the Seasons" delved into cheese seasonality and the subtle variations that result from the changing Vermont landscape.
Cooking demonstrations were presented by Chef Sean Buchanan of Black River Produce, who offered a session on "Creative Cheese Boards," and by Chef David Hugo of Shelburne Farms, who talked about "Beyond Fondue: Cooking With Cheese."
The Vermont Cheesemakers' Festival is presented by the Vermont Cheese Council and sponsored by Cabot Cheese, Vermont Creamery, Shelburne Farms, Grafton Village Cheese and others.