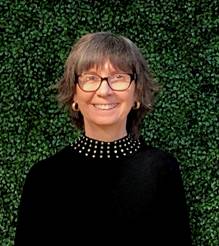 RHINEBECK, NY, January 10, 2022… Becky Tyre, veteran retail writer, shop local advocate and visual merchandising enthusiast, has announced her retirement effective January 1, wrapping a successful 26-year career in the U.S. gift and home industry.
With fingers firmly on the pulse of both product and retail trends, Tyre served both as senior trends editor of Gift Shop magazine (2010 - 2014), and as contributing retail editor for Gifts & Decorative Accessories (2015 - 2019). As a noted authority on product trends and retail strategies, she also served as a guest speaker and conference presenter at leading B2B events across the United States.
In 2006, Tyre launched her own blog, Retail Details, which provided visual merchandising tips and display inspiration for retailers. She used the platform to celebrate and inspire creative display techniques – from merchandising basics such as store windows and use of color to innovative embellishments such as the use of umbrellas, balloons and even bicycles for in-store vignettes.
Tyre subsequently expanded her retail reporting milieu to include podcasting, with the launch of Retail Details The Podcast in 2019. The monthly episodes were both insightful and entertaining, featuring interviews with independent retailers who spoke candidly with Tyre about their retail journeys, business philosophies, sharing fun anecdotes and thoughts on how to be successful in today's retail climate.
As passionate advocate for the "shop local" movement, Tyre wrote and spoke frequently on the subject. She also used the significant influence of her social media platforms – more than 58,000 followers on Instagram, Facebook, Pinterest and Twitter – to champion this cause.
Tyre and her husband of 42 years, Loran, relocated from Florida to upstate New York in 2018 to be closer to their two adult children. Although her retirement plans are focused largely on enjoying her two grandchildren, ages 3 and 3 months, she also plans to continue her retail advocacy and visual merchandising coverage via her @RetailDetails Instagram.
Tyre can be reached by email at becky.tyre@icloud.com