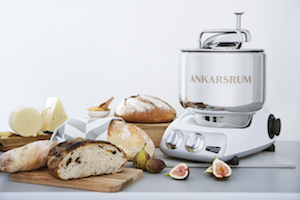 SMÅLAND, SWEDEN— In light of surging demand, Ankarsrum has tripled production capacity for the Assistent Original®, the aspirational choice in stand mixers. Made in Sweden, the line stands out for its multifunctionality and unsurpassed quality and innovation.

Production capacity has been addressed in three ways. First, the factory has added a second production line. Second, the factory workforce has expanded dramatically. Third, the brand has invested in additional training to preserve the quality of its handmade product.

"Increased demand for the Ankarsrum is a global phenomenon, with the US market growing in importance. We strongly believe that the US is now at the beginning of its growth curve, so we're predicting and planning for aggressive sales increases. This is a result from orders and feedback from our US retail partners," said Marcus Grimerö, CEO of Ankarsrum Kitchen AB.

The Ankarsrum simulates kneading by hand with a rotating bowl instead of something rotating in a bowl. This unique design is ideal for home-baked bread and other baked goods including cakes, cookies and frostings. Additional accessories are available to make this the go-to multifunctional appliance in the kitchen, including pasta makers, a citrus juicer, blender, slicers/shredders, nut grinder, meat grinders, a grain/spice/coffee mill and more.

Sales of accessories have more than doubled from 2020 to 2021. The top sellers have been the Vegetable Cutter, Deluxe Package (a 19-piece set of accessory items), Mincer Complete, Pasta Roller Lasagna and the Blender.

Recent sales trends show that the top four Ankarsrum colors are Red, Black Diamond, Glossy White and Jubilee Silver, together accounting for half of brand sales. Additional color choices add to the brand's appeal and mystique: Ocean Blue, Forest Green, Sunbeam Yellow, Pure Orange, Royal Blue, Chrome, Crème and Crème Light.

For more information, contact Ankarsrum USA at 770.516.0577, email support@ankarsrumoriginalusa.com, visit ankarsrum.com.
About Ankarsrum Kitchen AB
Ankarsrum Kitchen AB is one of two companies in the Ankarsrum Industries group. Located in the distinguished company town of Ankarsrum in Småland, the firm markets, sells and distributes the kitchen appliance Ankarsrum Assistent Original®. This kitchen appliance was first developed in the 1940s by industrial designer Alvar Lenning under the three watchwords of quality, functionality and design. Ankarsrum Assistent Original® became Sweden's first kitchen appliance and is just as popular today. Since its launch in 1940, 1.5 million Ankarsrum Assistent Original® machines have been sold in 30 different countries.