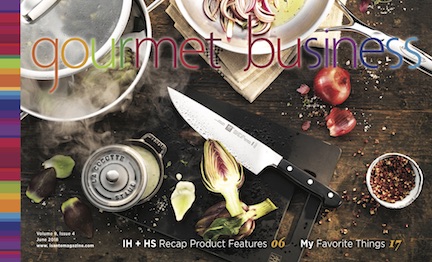 It seems that specialty retailers need to return to their roots. When I started in this business in the early 90's, I was a territory rep in New England for a collection of upscale housewares brands. The stores I serviced were successful in attracting customers that wanted better quality products and informed advice that couldn't be found without traveling long distances. My retailers at the time were keen to feature products from brands that were typically not featured at local department stores. This helped fuel demand for better quality products, and specialty suppliers prospered.
Well, the world certainly has changed, and the retail landscape, through the aid of e-commerce, has managed to reach potential customers in every corner of the country. If you know what your looking for these days, it's not hard to get it to your doorstep in a blink of an eye. At the same time, specialty kitchenware retailers started migrating to popular brands that were familiar to their customers, leading to a merchandise mix of products that can be regularly found at multiple retailers or easily sourced through the Internet.
While I understand the retailing mentality of giving the customer what they want, I think it can slowly lead to a specialty retailer losing their competitive edge. You want your store to be a destination for a mix of unique products that can't be found elsewhere, which is why they come to your store in the first place.
I recently ran into my old friend Rob Navarino from the Chef Shop, one of my retail customers in the day, and asked him what products were selling best for him these days. I was surprised, and delighted, to hear that he was scouring the trade show for unique products and brands. He said he was having great success with product categories like textiles and casual tabletop, which are so much more sellable when they are displayed attractively and a customer can touch and feel the product. Nuances like the quality of the glaze, or the feel of the cotton, the appeal of the color or pattern together with the over all presentation is what is selling the product, not so much the brand name.
Consider this a challenge to start thinking outside the box once again, and expand into categories and brands that can't be found everywhere. You are not lacking good choices in the marketplace currently. In many ways, products have become more distinctive through great design, new materials, and manufacturing methods. Take some small risks, and see what happens. It may uncover some new and interesting categories of products for your store that sell better than you expected, and help set your business apart by being a destination for product discovery and trendy merchandise.