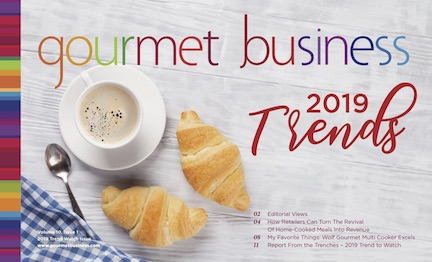 Welcome to 2019. May it be a great year for all. Now it's time to turn our attention to the New Year, and focus on all of the new products that are being launched into the market. As you know, I attend many trade shows during the course of the year to cover the housewares, specialty food, tabletop, gift, and food service industries. During my travels I am exposed to many new products, and learn the stories behind many of the brands that design products for the channel. This gives me a unique perspective because I can see trends immerge or gather strength across categories, and identify products that seem to be well positioned to take advantage of these trends.
As you navigate your show of choice this quarter, I thought it would be helpful to identify some of the trends that seem to be driving product design, so you can also view all of the new products you will be exposed to in the proper context. Hopefully this will help you identify the right products to add to your product mix this year, and position your assortment for maximum success. For each trend I have tried to identify examples of one some of the products that have caught my eye along the way to illustrate my point.
In this issue I also reveal one of my favorite things from the past year. I have been involved in this business a long time, and I sometimes feel I have seen it all. Every once is a while a product truly stands out as being brilliantly executed, and exceeding my higher than usual expectations. The Wolf Gourmet Multi Cooker I review in this issue is one such product, and happens to be positioned in a very contested category that is most certainly on trend.
Our next issue will feature a comprehensive review of new products that will be introduced at the 2019 IH + HS to help you identify products that might deserve closer inspection during the show. Watch for it the week of show.
Now I am off to Las Vegas Market to find some unique and special products that have that artisan feel that seems to be in demand right now. I hope to see you there.