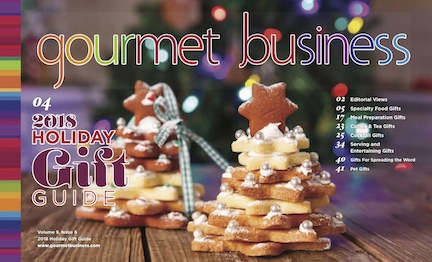 Surprise and Delight Your Holiday Shoppers This Season
It's that time of year again when all retailers need to think about expanding the product offerings in their assortments to include some products that will be seen as extraordinary gifts ideas for holiday shoppers. Over the course of the year, Gourmet Business attended many trade shows in the housewares, tabletop, specialty food, and gift industries. In our travels we take special note of company's and products that are on trend, provide great function, priced for outstanding value, and well-packaged for gift giving.
In the coming pages you will see some of the exceptional products that really stood out to us as being great gift items for the upcoming season. The products come from suppliers and designers both large and small based all over the world, and seem like they could be retailed in a variety of different retail environments.
We sought specialty food items that provided a great degree of transparency in their production, which seems to appeal to "foodies" and young professionals whom like to have a great understanding of the food they eat. We also included some treats that will always be crowd favorites. We looked for products that were easy to store when not in use, simplified a preparation task, or helped neaten the kitchen. We found products that will be great for entertaining a crowd, bring elegance to the holiday table, and help serve exceptional beverages. We even may have found a few things to surprise and delight the customer that is seeking inspiration.
We took great care to select items that were not so niche that a retailer would have to find the right kind of buyer in order to sell the product. The need and functionality of the products we selected are more universal and fitting with the larger trends that are driving demand this year. Most of all, we hope we have brought you some product ideas that you have never considered before, and seem right at home in your own store this holiday season.
May your season be bright!