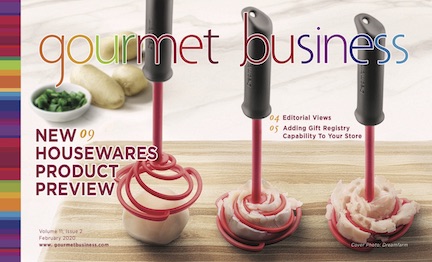 Off To A Good Start
The winter markets in Atlanta and Las Vegas seemed even more vibrant this year, with strong attendance, and vendors reporting a surge in order writing. It seems as if specialty retail is enjoying a resurgence of sorts, and 2019 was a very good year in retrospect. Anxious to hear more about how the year went, I was encouraged by the individual stories that were reported to me during the GC Buying Group's annual member conference held in conjunction with the AmericasMart show. At the evening dinner gathering of the GC Buying Group's members I was able to hear many positive reports about the previous year's success from some of the 500 + member stores that make up GC and represent some of the most successful specialty kitchen stores in our country. Superlatives like "quadrupled sales", "record year", and "very happy" highlight many of my conversations. I know we have been working hard to climb back from some less than stellar years lately, but I didn't realize that we have come roaring back. The end result was great sell through last year, and the improved turnover meant that stores were eager to replenish the shelves with the latest and greatest being offered at market.
I attribute this inspiring news to a good economy and the underlying theory that the world will never stop eating. In fact, through my experience covering the food industry, I can tell you that there is far more focus in America today about what you eat, where you eat it, and how it's presented than ever before. This should lead to strong demand for products and ingredients that help consumers live happy and healthy lives.
Looking at some of the outstanding products being presented during the GC tabletop show for it's members, it's clear to see that manufacturers have been doing their part to make their products appealing to the Millennial generation with great design and product execution, trendy colors, thoughtful packaging, and manufactured with concern for the environment. With many new brands making their way to the forefront, legacy brands have been busy update their presentations to stay relevant in the current market. All of this great product work has helped specialty retailers create excellent assortments, and propel their sales to new heights.
In this issue you will learn about some of the interesting product introductions that will be available to the market this year in a variety of categories to help you stay on top of the trends and keep your merchandising fresh. Keep up the good work!