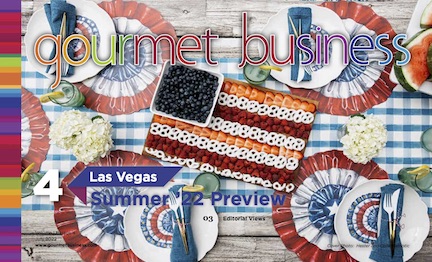 Beauty is in the eye of the beholder they say. Or to twist that into another meaning, a diverse group of people will demand a diverse group of products. As your attention turns to deciding on your merchandising mix for the upcoming holiday season the propensity to purchase will likely depend on a different set of factors because more than likely the products purchased will be intended as a gift. Purchases will be less utilitarian and much more emotional. In this retail environment sometimes the middle of the road ends up appealing to no one at all because it is bland, dull, and doesn't inspire any emotions at all. You need to keep your eye out for products that are special in that they represent a unique product presentation that exhibits more elegance, better design, attractive colors and obvious craftsmanship that contributes to a certain "Je ne sais quoi" that is undeniable.
In this issue of Gourmet Businessyou will discover a group of products from a range of suppliers that specialize in the extraordinary and will be presenting their products at the upcoming Las Vegas Market showthis summer. You will find products that use color, creativity, quality materials, and even whimsy to create unique products that will improve eye-appeal at point of purchase. Hopefully we will help you identify some products that will fit perfectly in your assortment in the second half of the year.
We wish you a successful market experience.