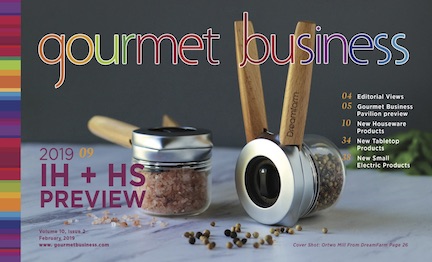 Housewares Can Help Consumers Live Healthy Lives
This year is shaping up to be interesting already. I have already attended a number of trade shows, and the attendance has been outstanding. Retailers seem to be upbeat, and many are reporting that they had a fantastic year last year. At the Winter Fancy Food Show earlier this year, I was taken by surprise by how many companies were introducing plant-based foods. Even companies that previously didn't produce vegetarian friendly foods were throwing their hats in the vegan ring. What that tells me is that consumers are taking their health very seriously, and demanding foods that they see as being beneficial to their diet. I don't think that the population of strict vegans has increased dramatically, we are just experiencing a demand for foods that are perceived as healthy choices.
We can clearly see that consumers are making a connection between their health and its impact on their well-being. To be successful in the housewares business, we are going to have to similarly help draw the connection from the products we sell to the impact that these products can have to help satisfy the desire to have a healthy diet.
You will also notice this year, as you see the new products that are coming to market, that pleasing aesthetic design is also gaining importance. But design alone will not sell the product; it also has to be highly functional, and even multi-functional to be a top seller. Products that excel on both dimensions are sure to be winners.
On the coming pages you will see a comprehensive overview of many of the new products that will be introduced at this year's IH + HS. We hope you have a chance to visit our Gourmet Business Pavilion located at N8437where you will also find some interesting companies that are previewed in the issue.
We hope you also join us for another entertaining demo on Monday at 1 pm on the GoHo Cooking Theater Stage by Chef Bernard Guillas from the La Jolla Beach and Tennis Club, sponsored by Ferrum Technology. We always learn great cooking tips from Chef Bernard, and it's always a joy to watch him prepare an interesting dish for us to replicate in our homes. He will be showing us how the incredibly sharp Ferrum knives make his meal preparation faster and better. He will be hosting a cookbook signing at the Ferrum Technology booth located at S4441 immediately following his demo.
We hope you have a successful show!